My hand-carved logo symbolizes the principle of cooltiger ltd. Every creative work starts with basic analog tools ― the hands.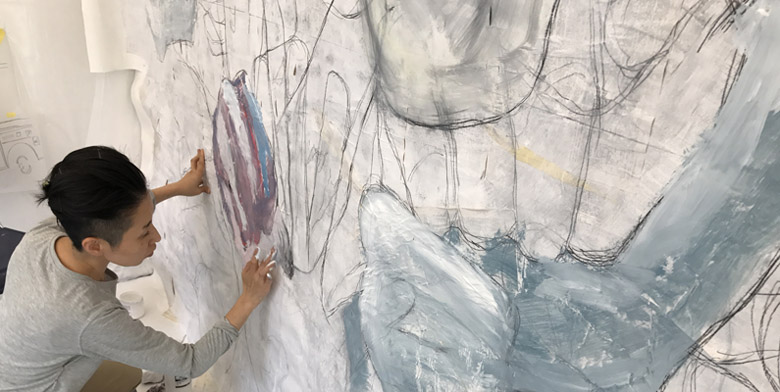 Eiko Nishida
Born in Hiroshima in 1974. President and creative director, cooltiger ltd.
Ms. Nishida was born in Hiroshima, Japan, in 1974. She studied at the University in Japan and received a B.A. in chemistry in 1997, but she also studied fine art at Central Washington University as an exchange student in 1996-1997. Worked as coordinator for a newsletter in Japanese and English for one of the major hotels at a PR company in Tokyo. Then worked as a graphic designer for a couple of magazines in both English and Japanese from 2000. Started a freelance design career from 2001 and is now undertaking a diverse range of "communication design" projects. They include not only visual design such as newsletters, company brochures, logos, posters, etc., but also contributing articles for Korean magazines in Korean about the design scene in Japan and organizing events to meet both clients' demands and doe her own original projects. Has had many solo or group shows and attended overseas art fairs since 2004. Launched a graphic design company cooltiger, ltd. in 2005 and a rental kitchen space 20T (nijyuttsubo http://20t.info/), in 2015, where language- and communication-oriented events are regularly held.
cooltiger ltd.
location: 1-5-6-5F KS floor, Kudan Minami, Chiyoda-ku, Tokyo, Japan
1-1-25-3F, Honkawa-cho, Naka-ku, Hiroshima, Japan
date of foundation: August 1, 2005
capital: 3,000,000 JPY
手彫りのロゴは「全ての製作は手というアナログから始まる」という弊社の信条を象徴しています。
西田栄子
1974年広島市生まれ。有限会社クールタイガー 代表/クリエイティブ・ディレクター
使用言語:日本語・英語・韓国語。2000年よりデザイナーとしてフリーランス業務を始める。印刷物のデザイン、自社プロダクトの開発・製造・販売に加え、国内外の媒体への寄稿やイベント企画・運営、インバウンド事業コーディネーション、日本のデザインシーンについて韓国月刊誌『DESIGN』に寄稿など、広い意味でのデザイン「コミュニケーション・デザイン」業務に携わる。2015年4月より広島市内にレンタルキッチン20T(にじゅっつぼ)http://20t.info/ をオープンし、毎月複数回、多言語を用いる自社イベントも開催。多岐に渡るチャンネルでコミュニケーション・デザインに積極的に注力している。
有限会社クールタイガー
所在地:東京都千代田区九段南1-5-6-5F KSフロア
広島市中区本川町1-1-25 旭・進栄ビル3階
設立年月日:2005年8月1日
資本金:300万円